Men
CNN: Eric Holder's Appearance with Al Sharpton, What Does It Mean?
U.S. Attorney General Eric Holder's decision to speak at an annual convention of the Rev. Al Sharpton's group, in which Trayvon Martin was a key issue, has been widely panned as a political ploy.
But maybe, just maybe, it's also evidence that the tamer version of the civil rights leader that we've seen in recent years — the syndicated radio host, the MSNBC personality, the White House adviser — is enjoying broader legitimacy these days.
"It certainly is a sign of Sharpton's very close relationship with the White House," said Boyce Watkins, a political analyst and Syracuse University economist who often weighs in on race relations. "But to think there isn't a political calculation involved would be a bit naïve."
Holder opened his Wednesday speech at the National Action Network with high praise for Sharpton, thanking him for being a partner and friend and for his "tireless efforts to speak out for the voiceless, to stand up for the powerless and to shine a light on the problems we must solve, and the promises we must fulfill."
He went on to say that he could not discuss the DOJ investigation into the 17-year-old Martin's killing at the hands of neighborhood watch captain George Zimmerman but that Justice Department officials were meeting with Martin's family, local police and the Sanford, Florida, community.
He promised a "thorough and independent review" and said, "If we find evidence of a potential federal criminal civil rights crime, we will take appropriate action. And, at every step, the facts and the law will guide us forward."
Conservative websites quickly blasted Holder and questioned how the attorney general could stand next to a man whose long history of civil disobedience and protest includes allegations of defamation and inciting deadly riots.
A checkered past
In a column on The American Spectator website, titled "Holder is a disgrace … and a very bad man," senior editor Quin Hillyer wrote, "Even I, with my low opinion of Thug-in-General Eric Holder, can't believe he would lavish praise on scofflaw, tax evader, and murderous inciter to violence Al Sharpton in the way Holder did."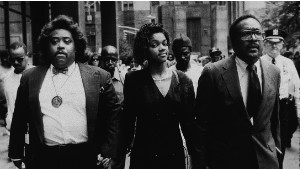 Tawana Brawley holds hands with Sharpton and her attorney outside the New York Supreme Court in 1990.
A Breitbart.com columnist added of Holder, "Why should he be introduced by Al Sharpton, the man who once incited a race riot in Crown Heights ending in the murder of an Orthodox Jew, the man who pushed the trumped-up Tawana Brawley case, the man who forwarded the false Duke lacrosse rape case, and the man who is currently stirring up trouble in Sanford?"
"He's doing it because that's his job: to pander to extremists like Sharpton. That's why we've heard nothing from the DOJ about the New Black Panthers' bounty — or even their voter intimidation back in 2008."
Sharpton has refused to apologize for his handling of the 1987 Brawley case, despite being found liable for defamation. He apologized for using racially charged language ahead of the 1991 Crown Heights riots but has denied responsibility for any of the violence. Sharpton's involvement in the Duke case was minimal, but he stood behind the lacrosse players' accuser when she was later discredited. The accused students were vindicated